Seit November gibt es dank meiner lokalen Steampunkgruppe "Dampfkraftgesellschaft Rheinprovinz" ein etwa alle zwei Monate stattfindendes Treffen. Wir haben uns bereits zweimal getroffen und am 11. März wird der nächste Stammtisch folgen.
Ich bin wirklich froh darüber, dass wir jetzt so regelmäßige Treffen haben auch wenn sie im Vergleich zu den großen Conventions natürlich sehr klein sind. Wir sitzen meistens zusammen und tauschen uns aus und essen gemeinsam. Außerdem gibt es meistens noch etwas Kulturprogramm, z.B. die Besichtigung eines Museums.
Anders als bei den Lolitatreffen, die ich so kenne, ist Photos machen nicht so wichtig. (Aber wir Lolitas bringen die Steampunks schon noch dazu mehr Fotos zu machen *muhaha*)
Hier kommen noch ein paar Impressionen von unseren ersten beiden Treffen:
Im Landschaftspark Duisburg am 20. November
Unsere Gruppe
Mein Outfit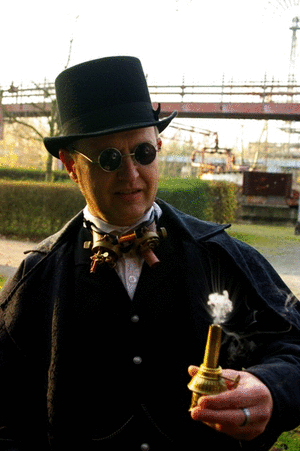 Eine kleine Spielerei
Und im Textilmuseum Bocholt am 8. Januar
Unsere Gruppe
"Schau mal da!"
Mein Outfit
Seid ihr auch schonmal auf einem Steampunktreffen gewesen? Gibt es bei euch vielleicht auch so regelmäßige Treffen? Ich freue mich über eure Kommentare!
Eure AyraLeona
___________________________________________________________________
Since November my local Steampunk group "Dampfkraftgesellschaft Rheinprovinz" established a regular meeting every two months.
We already had two gatherings and a third is about to happen on the 11th of March.
I'm really happy we have such regular meet-ups here although they are relatively small compared to the big conventions. We use to talk a lot, and eating together is always a main point of the program. Additionally we often do some cultural program, like museums or such.

Unlike the Lolita meet-ups I know, taking pictures is not that important. (But we Lolitas bring those Steampunks to take more photos *muhaha*)

So here are some impressions of the last two meetings:

First from the Landschaftspark Duisburg on November, 20th.
Our group
My outfit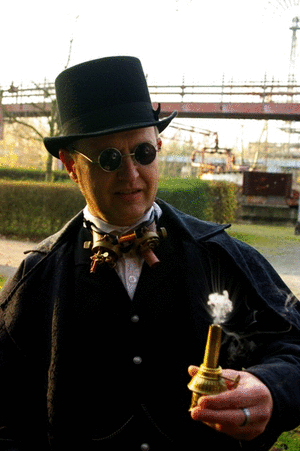 Just for fun
And from January 8 at the textile museum:
Our group
"Look up there!"
My outfit

Have you ever been to a steampunk meeting? Or ist there a regular meet-up in your area, too?
I really appreciate your comments!
Yours
AyraLeona